The next Global SOF Symposium - US will take place from 15-17 MAR 2021!
LOOKING BACK AT THE 2019 SYMPOSIUM
U.S. and international special operations leaders gathered on March 5-7, 2019 for an exclusive event to focus on strategic security issues, innovation, and relationship-building.
The agenda featured international thought leaders, technical experts, and transition education, providing attendees with a unique experience
Attendees included: active duty and retired military and police, government civilians, industry, academia, journalists, and non-governmental organizations
OFFICIAL REPRESENTATION FROM 23 NATIONS:
Australia | Belgium | Brazil | Bulgaria | Canada | CzechRepublic | Finland | France | Germany | Hungary | Italy | Jordan | Kuwait | Lithuania | The Netherlands | Poland | Romania | Singapore | Slovenia | Spain | Sweden | United Kingdom | United States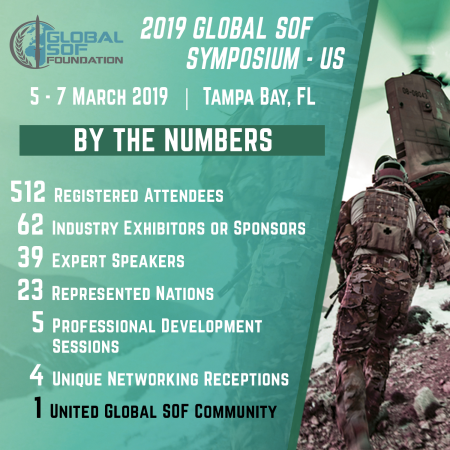 Thank you to our Platinum Sponsor!



2019 Symposium Highlights
2019 Symposium Highlight Video
Quotes from Attendees
"I had more meaningful conversations with both government and industry than any other conference in the last few years."
- Lori L.
"I attend a lot of these events, and yours was among the best... I believe your organization will prove to be one of SOF's most useful tools to both its members and the Command(s)."
- Daniel M.
"A really great symposium -- better than last year, which means it will improve each year!"
- Lance M.
Join Our Email List
Sign up below and receive updates about the 2020 Global SOF Symposium - US.
Join Our Email List
About the Global SOF Foundation
The Global SOF Foundation (GSF) is a 501(c)(3) non-profit organization that serves as the only professional association for the global special operations community with members from over 55 countries. Its mission is to build and grow an international SOF network of military, government, commercial, and educational stakeholders in order to advance SOF capabilities and partnerships.
Visit Website