Register
Registration Type
GSF Member Rate
Non-Member Rate

Military/Government




This rate applies only to active duty military or current government civilian personnel with a valid government ID.

$135
$175

Military/Government Spouse




Select this option if you already registered yourself for the conference and want to add a spouse.

$100
$100

Industry

$725
$845

Academia/Non-Profit

$475
$525

Industry/Academia/Non-Profit Spouse




Select this option if you already registered yourself for the conference and want to add a spouse.

$295
$295

Evening Receptions Only





$150
$150
Military/Government SOF for Life Only


This seminar occurs on March 5th and is ONLY OPEN TO ACTIVE DUTY SOF AND THOSE WHO HAVE RETIRED OR SEPARATED LESS THAN TWO YEARS AGO (BOTH U.S. AND NON-U.S.). Spouses are also welcome. If you wish to attend all of the Symposium, do not select this registration type. Instead, please select the Government or Active Duty Military registration. This seminar will be included in that registration.

$40
$40

Military/Government Professional Development Session Only




This rate applies only to active duty military or current government civilian personnel with a valid government ID. Select this option if you only want to attend one of the Professional Development Sessions, as well as the Evening Reception, on March 5th.

$25
$25

Professional Development Session Only




Select this option if you only want to attend one of the Professional Development Sessions, as well as the Evening Reception, on March 5th.

$125
$125

Press

Click Here
-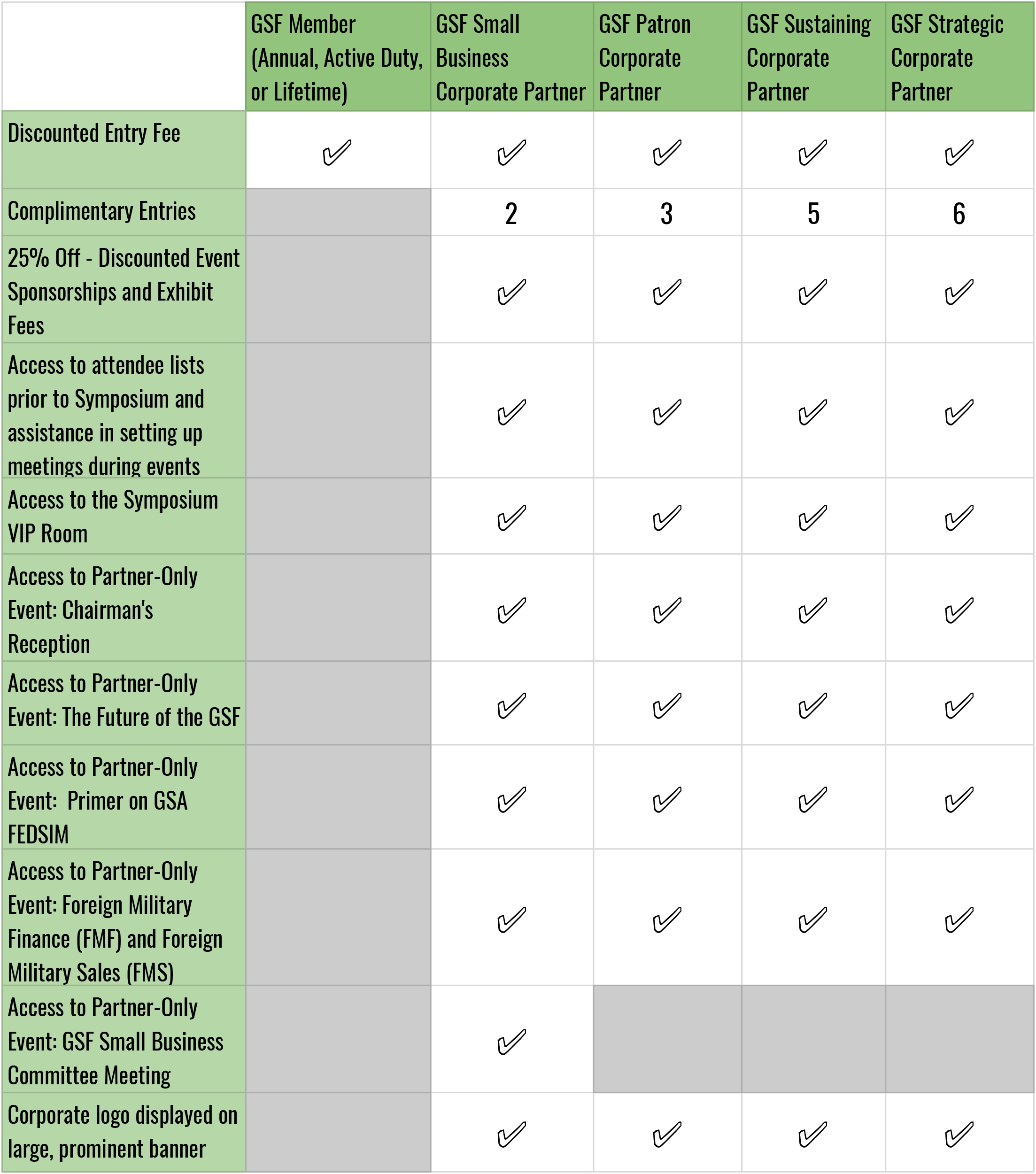 Global SOF Foundation Members and Corporate Partners get discounted rates and other perks at the Symposium.

Click the image for a larger version.
Cancellation Policy
There are separate and unique cancellation policies for Symposium registration and hotel registration. Attendees are responsible for becoming familiar with all cancellation policies. Symposium registration cancellations after COB Monday, February 18, 2019 are NOT refundable. Requests for cancellation before COB Monday, February 18, 2019 are subject to a 10% cancellation fee.