Save the Date for 2020: 17-20 NOV 2020!
Thank you for attending Modern Warfare Week 2019!
The Global SOF Foundation (GSF) Demo Days, Modern Warfare Symposium, and Modern Warfare Expo brought our special operations forces (SOF) community to the greater Ft. Bragg area from November 19-22, 2019. We had over 650 attendees check in, and nearly 60% were military or government representatives.
Co-sponsored by the U.S. Army Special Operations Forces Command (USASOC)
, the Modern Warfare Symposium convened the SOF community to both educate and connect through discussion about the future of modern warfare from a SOF perspective.
Highlights included:
Attendees included subject matter experts, Army SOF, conventional units, industry, and academia
Brought together over 650 attendees
The Symposium featured a SOF for Life Seminar, aimed at SOF and SOF support who are transitioning or recently transitioned from Active Duty
The Inaugural Demo Days event at The Range Complex allowed attendees to test out cutting-edge technologies
The Expo Hall took place in conjunction with the Symposium, and offered nearly 50 exhibits from companies with capabilities that are needed by Army SOF.
USASOC's co-sponsorship of this event does not imply endorsement of the Global SOF Foundation, its services, or products by the United States Government, the Department of Defense, or U.S. Army Special Operations Command.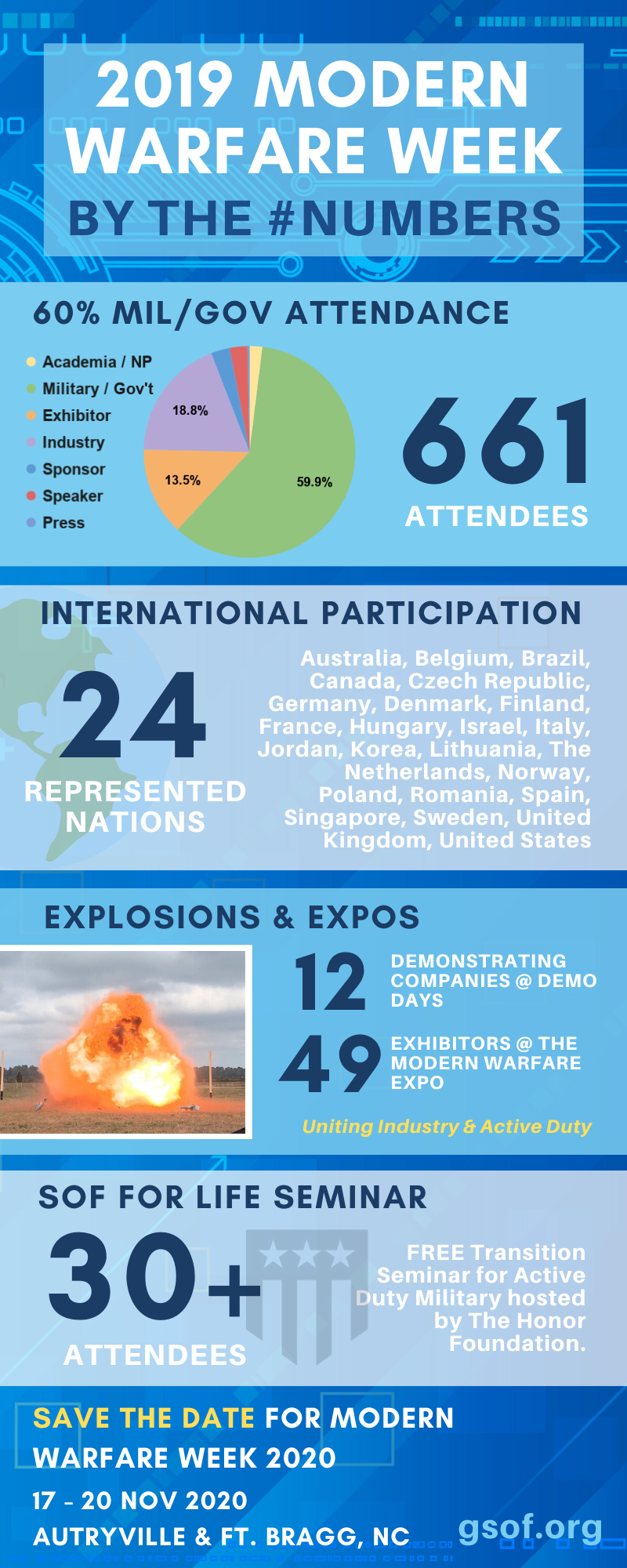 Join Our Email List
Sign up below and receive updates about the 2019 Global SOF Modern Warfare Symposium & Expo.
Join our Email List
About the Global SOF Foundation
The Global SOF Foundation (GSF) is a 501(c)(3) non-profit organization that serves as the only professional association for the global special operations community with members from over 55 countries. Its mission is to build and grow an international SOF network of military, government, commercial, and educational stakeholders in order to advance SOF capabilities and partnerships.
Visit Website